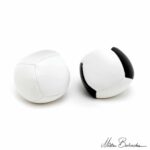 Beanbag 130 g record – Mister Babache
Beanbag 130 g record – Mister Babache
$12,00 USD
High quality juggling ball, the 130 g Record beanbag is designed Mister Babache (Switzerland).
Hand-stitched, the outer shell of the 130 g Record beanbag consists of six premium  leather panels (all white or black and white).
Made with a nylon inner double-shell, the 130 g Record beanbag returns to is spherical shape after the shocks, even if it's flexible.
The 130 g Record juggling ball is filled with millet, a grain with rounded ends, which is not aggressive for the envelope of the ball or for the hand.
This 130 g Record beanbag provides a comfortable grip because it crashes into the hand, greatly facilitating the reception. Furthermore, it does not bounce when it falls to the ground, so it's the perfect juggling ball for training and for beginners.
The 130 g beanbag is the most popular format of juggling ball. It is suitable for air juggling and multiballs juggling.
The Mister Babache 130 g Record beanbag is available white or black and white.
Read How to choose the ideal ball to select the right ball.
All our balls are sold individually.
Juggling Ball 130 gr RECORD Special leather soft 6 sides
SALE BY UNIT!
Additional information
| | |
| --- | --- |
| Weight | 130 kg |
| Manufacturer | |
| Color | |
| Diameter | |
Only logged in customers who have purchased this product may leave a review.