Slacklines are growing in popularity every day. Their easy and simple design makes them extremely accessible to beginners and sports lovers of all kinds. They can be used for a variety of activities including balancing, jumping, line surfing, tricklining, highlining, and even yoga. While slackline balancing and slackline yoga are more centering and "grounded" activities done closer to the floor, highlining is exactly what it sounds like, a sport that rigs slacklines up between cliffs with lines stretching up to 100 feet.
Slacklines provide a great mental and physical workout by enhancing core and lower body strength, posture, balance and mental focus. So whether you're an adrenaline junkie or simply looking for a new dynamic form of exercise, slacklining is for you.
What Kind of Slackline Should I Get?
Figuring out which kind of slackline kit you need can be hard, but we are here to help. You should think about what skill level you are, where you will set up, and what kind of slacklining you are interested in and find the product made just for you. Beginners should look for a line that is two inches wide, which is easier to balance on and set up. Wider lines are better for new slackliners, and they're also a less-painful way to learn how to do tricks. There are different kinds of slacklines and accessories for every kind of slackliner, and Slackline Industries makes them all.
Slackline Industries is the leader in North American slacklining, a Montreal-based company that produces the best slacklines Canada has to offer. Slackline Industries is also the only brand of slacklines in the United States that is fully compliant with both European and US regulations. We've got every style of the top-ranked products at the best prices, together with all the equipment and accessories you'll need. All that's left to do is choose!
Slacklines for Beginners
As a beginner, you'll want a slackline kit that makes getting set up quick and easy. Beginner slacklines usually have a wider line, which makes them more comfortable to walk on. They are also made of materials that hold more tension, making them easier to balance because they don't sag to the ground. Some come with a safety line to hang overhead, which will help you out as you learn to stay balanced. Out of all the models on the market, Slackline Play and Slackline Base are the best starter slacklines because they come with everything you need for an easy set-up.
This slackline kit's main line is 2 inches wide and 50 feet long, making it one of the best slacklines for beginners. It is made of highly durable nylon and coated in rubber for extra grip, perfect for learning feet. It also includes a help line, which can be set up above the mainline to help beginners improve posture, balance and agility. It is suitable for children and adults, making it a fantastic family or group sport no matter where you go. It's portable, with a super easy ratcheting setup system, so you can set up in the backyard or take it out to the playground or the beach.
The Play Line kit is fully compliant with US (CPSIA) and European (EN79400:2012) regulations. It includes:
2 in, 50 ft rubber-coated main line
Rubber grip ratchet system
Help line
2 pieces of tree protection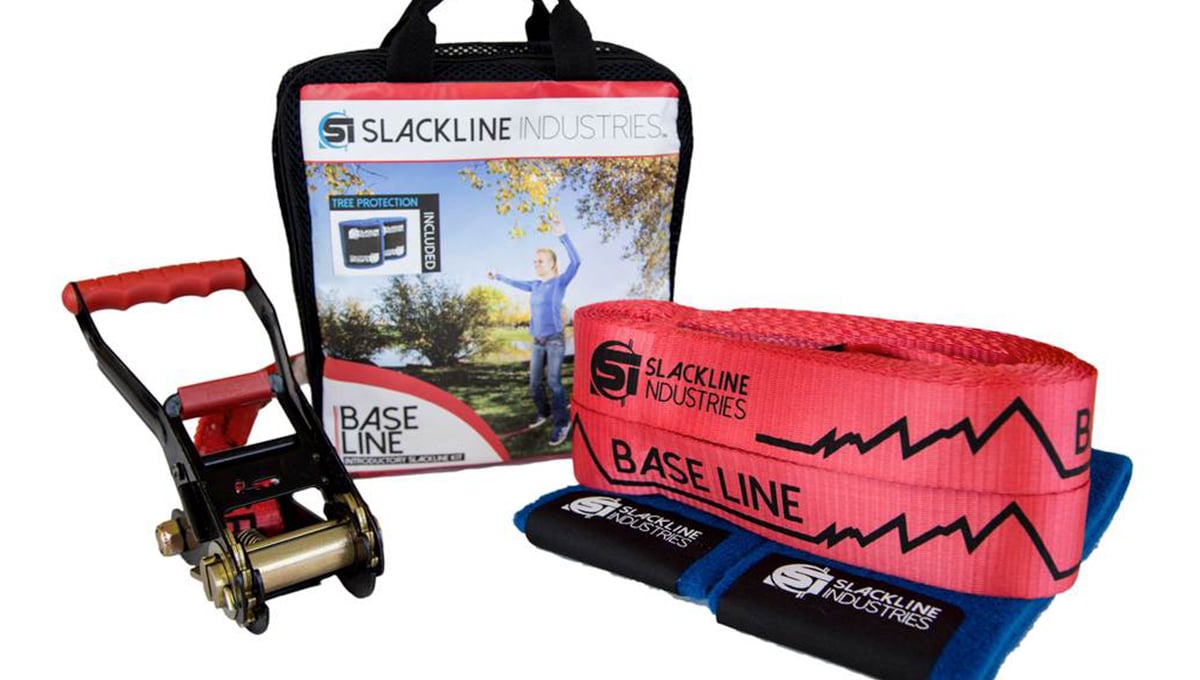 This slackline kit is great for beginners and intermediate users who want to advance from walking to doing tricks. The product design is universal enough that one slackline is suitable for families or groups of friends at different ability levels, as well as new slackliners that learn fast. The main line measures at 50 meters and can be upgraded to 85 metres, so you can start on short walks and work your way up to longlining. Like the Play Line, the Base Line Kit is made of low-stretch durable nylon coated in rubber for extra grip. Tight enough for beginners and easy to walk, it still has enough slack to handle basic tricks like jumps and bounces. This is one of the most universal slacklines on the global market, as people of all ages, abilities, and interests can use it. It is fully compliant with US (CPSIA) and European (EN79400:2012) regulations. It includes:
2 in, 50 ft (or 85 ft) rubber-coated 2-piece main line
Rubber grip ratchet system
Help line
2 pieces of tree protection
Slackline for Tricks (Tricklining)
If you're ready to leave beginner level behind and start performing tricks such as line surfing or waterlining, it's time to start shopping for slacklines that are designated specifically for tricks. Look for a product with webbing that is thinner but still 2 inches wide. This provides more bounce and better stretch, much like a trampoline, while maintaining a large grip surface for your feet. The Trick Line Kit by Slackline Industries is an all-inclusive pack perfect for tricklining of all kinds.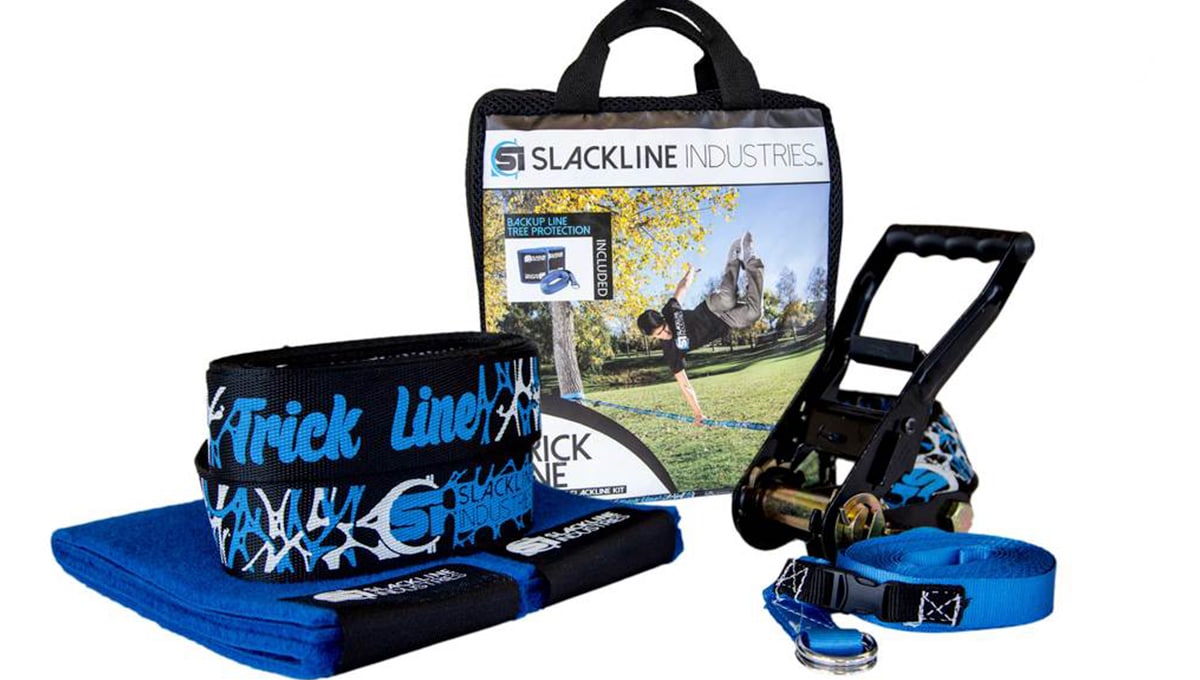 This kit's main line is made out of a more stretchy webbing than the basic main lines, which provides the user with more bounce for jumps, spins and rotations. This pack also includes a backup line that prevents the slackline and ratchet from ejecting at rapid speed toward the user if something breaks. It is fully compliant with US (CPSIA) and European (EN79400:2012) regulations. It includes:
50 ft, 2 in Main line
Soft grip ratchet tensioner.
Backup line
2 pieces of tree protection
Slacklining for Kids
Slacklining is one of the best ways to develop a child's cognitive abilities, physical awareness, balance, agility and self confidence. Kids are fast learners and love physical challenges, especially when they involve climbing and balancing. Slacklines are the perfect way to let kids learn while they're having fun. For children 5+ years, the Slackline Play Line kit, with its helpline, is a great choice. For children 5 and under, there is no better product available than the Slackers Balance Blox slackline kit.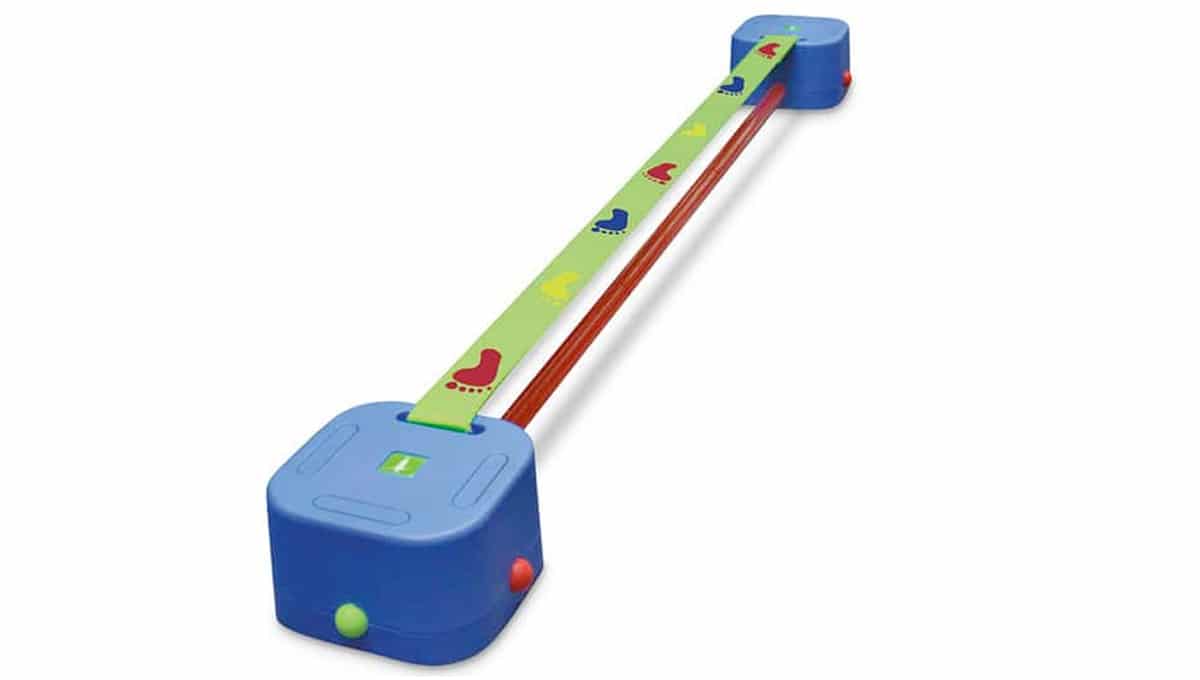 The Balance Blox slackline kit provides the perfect opportunity for your child to exercise while developing self-confidence, balance, motor skills, and coordination in a safe setting. The slackline kit comes with two weighted boxes attached by a steel bar running directly under the mainline. Because slacklines like this don't need anchor points, they can be set up anywhere, whether indoors or outdoors! Multiple Balance Blox sets can even be attached to each other to make a kind of obstacle course. These can be rearranged into different shapes for endless fun and variety. This kit is designated for users under 56kg (125 lbs) so don't forget to upgrade to the Slackline Play Line Kit as your child grows.
5ft (1.5 m), 6 in wide slackline
Ideal for ages 3-5
Versatile for indoor and outdoor use.
Slackline with Stand
If you are looking to set up your slackline indoors or in an open space, then a free-standing rack is a great choice. A freestanding slackline kit is the best option for people who want to try slacklining but don't have access to trees or other anchor points. People who live in cities without trees nearby, or people who do live near trees but they're spaced too far apart to use as anchor points, can still slackline. All you need is a slackline with a stand. Slacklines with stands work exactly the same as slacklines attached to trees. Just use two weighted blocks or a stand instead of trees for the anchor points.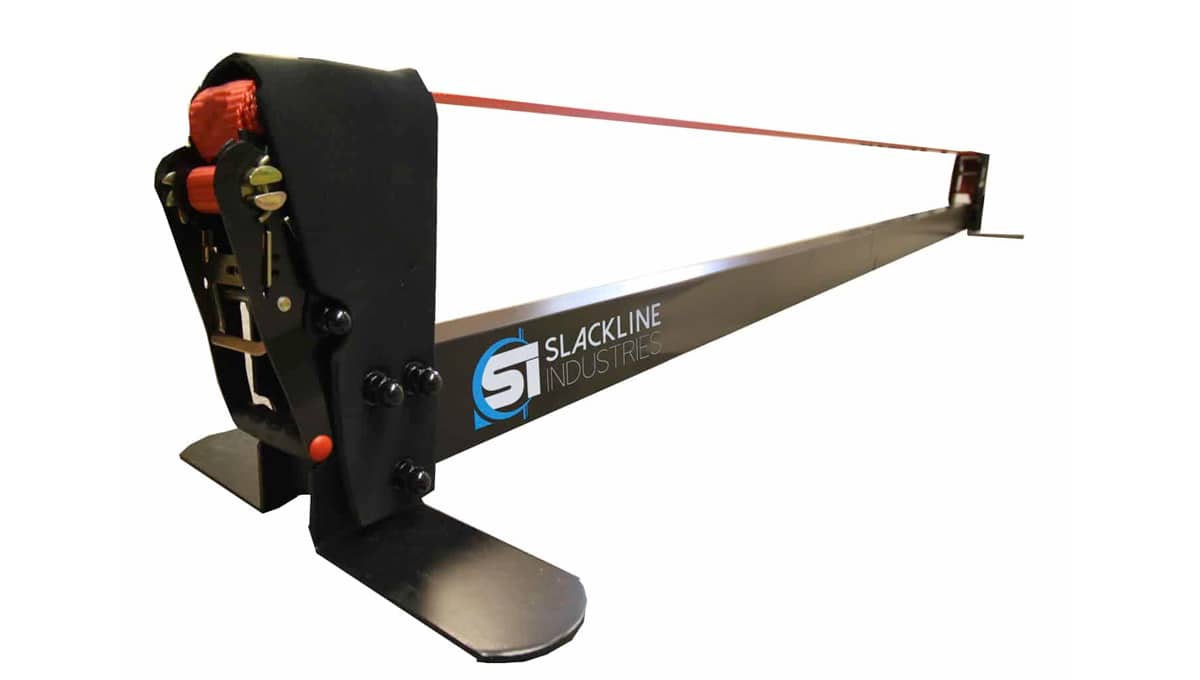 The Gibbon Slackrack provides a safe and easy slackline experience without having to worry about finding your own anchor points. It's light frame and durability mean that it is suitable for indoor and outdoor use on a variety of terrains. Due to its low height, it should be designated primarily for fitness practices such as yoga that focus on strength building and balancing as opposed to tricklining. Lower slacklines are also perfect for beginners, because being close to the ground is more forgiving for falls. The provided download of Gibbon Slack Phone App offers additional ideas and advice. It complies with the German Industry Safety standard for slacklining (DIN 79400). It includes:
3 m long, 2 in wide slackline with reinforced loop
Ratchet with safety lock
Protection pads
Stretch band
Setup guide, instruction manual, set-up tools, and cover bag
Exercise poster
Slackline Basics
If you are just starting, then it's best to get a beginner's slackline kit that has everything you need. Otherwise you can ask yourself, "Will I set up indoors or outdoors? Do I want to do strength exercises, basic tricks or very advanced tricks?"
What Width Slackline Should I Buy?
Slacklines come in widths of 1 or 2 inches.  While there is some debate in the slacklining community about which length is better, 2 inch-wide lines are usually preferred. For beginners, the 2 inches provide a wider grip and better stability while learning to balance and walk. For tricks, 2 inches provides more room for traction and landing. However, very advanced users who are interested in sports such as waterlining and longlining may prefer the 1 inch lines because they have a larger range of bounce and movement. Children 5+ years can use a 2 inch slackline just as well as adults but very young children will want an even wider slackline that can be found in slackline kits like the Balance Blox.
How To Set Up A Slackline: Ratchet vs Primitive
There are two methods for setting up a slackline: Ratchet and Primitive.
The ratchet system is best for beginners who are just starting to tie their own slacklines or for anyone who needs to be able to set-up and take-down quickly. Be aware that badly-made ratchets can often prove unreliable and cause injury. We recommend only purchasing ratchets with certified approval.
The primitive system is ideal for anyone traveling with a small pack or limited carrying weight capacity, such as those traveling by plane. The primitive system requires 4 carabiners, 2 anchor slings, 2 rappel rings and some web slings. You will also need to learn how to create a line lock and a tension system for this method to work.
How to Set Up a Slackline Ratchet System
After finding two anchor points 20-30 feet apart, wrap the tree protectors around them at an equal height. Beginners should do this between knee and waist height.
Wrap your webbing around the tree protectors. Tie your webbing around the tree and through the loop folded so that the webbing comes out flat and facing up. Your line should now be facing the other anchor point.
Walk your main line to the second anchor point while ensuring it is flat and doesn't have any twists.
Feed your slackline through the top of the ratchet, making sure the webbing sits perfectly in the centre of the ratchet to prevent the line from fraying, until you can feel tension. Once this is done, use the ratchet system to further tension the slackline by pulling its lever towards your body. Make sure not to over-tension the slackline otherwise you will find it difficult to take down later on.
To take down your slackline, flip the ratchet over, pull the release lever, push down then pull the top line to remove the line from the ratchet.
How to Set Up a Slackline Primitive System
After finding two anchor points 20-30 feet apart, wrap the tree protectors around them at an equal height. Beginners should do this between knee and waist height.
Wrap your webbing around the tree protectors. If your webbing doesn't have two loops at the end called "girth hitches," you'll have to make them yourself. If your webbing already has two loops, put the carabiner through the two girth hitches or create a girth hitch by putting one loop through the other and attach your carabiner to the end furthest from the tree. Make sure the carabiner opens upwards and away from the tree.
If your webbing doesn't have a loop, you will need to make a line lock. Fold your webbing over and take it through 1 rappel ring twice. This makes a friction lock which you then need to attach to the carabiner. Make sure to attach the carabiner to webbing through the friction lock and not the rappel ring.
Walk your main line to the second tree ensuring it is flat and doesn't have any twists.
Next you will create the pulley system. This takes some guess-work, but you will develop an intuition for this over time. Create another line lock like you did at the other end. This carabiner should open up towards the carabiner on the tree.
Pull your webbing towards and through the carabiner on the tree and back on top of the first carabiner. Take the webbing down through this carabiner. Now your webbing should be underneath. Return it through the second carabiner. Put this second part underneath the first part and this will create a friction lock. Return the webbing to the first piece and push it underneath again to make your 2nd friction lock.
Pull the webbing that's coming out of the pulley system to straighten the tension line and minimise the angle.
Finding the Right Trees for Slacklining
You will need strong and sturdy trees that are 20 to 30 feet apart. Make sure the trees are healthy and that the bark is not broken or crumbling. Clear the space below your slackline of debris to prevent injury when falling or stepping down.
Slackline Safety
Slacklining is not the most dangerous sport but it does have its own hazards which you can minimize by following some basic safety guidelines:
Always use tree protectors to minimise wear and tear to slacklines and anchors.
Make sure your slackline is visible to others and does not cross over designated bike paths or walkways.
Make sure your anchor points are sturdy and reliable
Set up at a safe height to decrease the risk of fall injuries.
If you are tricklining, make sure to set the slackline high enough that it doesn't touch the ground when fully stretched.
Never leave your slackline unattended.
If tricklining or jumping on your slackline, make sure to use a backup line.
Children should only use a slackline with the consent and help of their parents.
Regularly check and service your ratchets to ensure they are fully functioning. Clean your ratchet of dirt after every use.
Regularly inspect slacklines for damage and fraying
FAQ
Slackline Barefoot or With Shoes?
Slacklining barefoot or with close-toed shoes are both common and is simply a matter of preference. Slacklining with close-toed shoes has the advantage of flattening the sole of your foot making it easier to balance. Shoes also prevent the slackline from catching between the toes and provide some protection when falling from the slackline onto potentially hidden objects or spiny plants.
How Tight Should a Slackline Be?
Slacklines shouldn't be so tight that they are stiff, nor so loose that they touch the ground when you use them. You can try out different amounts of tension to find what suits you best.
Can You Slackline Without Trees?
All you need are two anchor points whether they are trees, poles, pylons, wall anchors or our Gibbon slackrack. For the outback slackliner, boulders can also be used as anchors with some work and the right equipment. Whatever your anchors are, ensure they are solid, reliable and that you are using the appropriate knots.
Slacklines vs Tightropes – What's The Difference?
The line tension of a tightrope is very tight, meaning that the line hardly moves. Slacklining tension is considerably looser, meaning that the line moves in accordance to the weight of the user. Rigging a tightrope is much more difficult than a slackline due to the dangers of a tightrope's tension. Slacklines are much more versatile and can be easily set up in a range of locations which makes them much more popular amongst hobbyists.
How Much Weight Can a Slackline Hold?
There is no standardised load limit for slacklines, but all certified products, like the ones we carry at Slackline Industries, have available stats and generally hold up to 300lbs unless specified otherwise. It is unlikely your line will break while doing basic exercises. However, as you progress to longlining or tricklining, you will want to consider the amount of force exerted on the slackline by measuring your weight, the length of the slackline and the amount of tension caused by your movements. This can be measured by using an online calculator.
Can I Make a Slackline?
You'll need a slackline, 2 tree protectors, and 2 anchor slings. You will also need to decide on whether to use a ratchet system or a primitive system. All parts required for either system are included in the Slackline Industries kits sold at Goudurix, together with the slacklines themselves.
Conclusion
At this point, choosing a slackline should be much less overwhelming. It's easy to choose the kit that's right for you once you know how you want to use your slackline, and Slackline Industries has a line for everyone, from children and beginners to yogis and tricksters. The Play Line Kit is great for total beginners and kids, but the Balance Blox set is even better for very young children, especially because it can be arranged into different shapes and patterns. People interested in doing tricks should look for specialized slacklines, and the Trick Line Kit offers all the safety and setup you need for jumps, spins, and more!
The Base Line Kit is the most universal kit out of all the slacklines on the market. It's got a wide enough line with enough tension for beginners, but it's long and just loose enough for basic tricks. Because slackliners of all levels can use it, the Base Line Kit is a great investment for a family, a group of friends, or people who learn fast that don't want to replace their line. It checks all the boxes, making it the true best slackline kit for all kinds of slackliners.