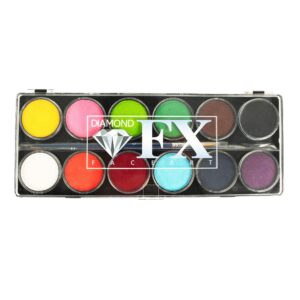 Diamond FX Makeup Palette 12 Colors (12 x 10 g)
Diamond FX Makeup Palette 12 Colors (12 x 10 g)
$56,00 USD
Diamond FX Professional Paint is ideal for artistic make-up and body painting.
This set includes a Diamond Fx makeup palette that contains 12 essential colors (Black, White, Brown, Orange, Orange, Red, Red, Light Blue, Dark Blue, Dark Blue, Light Green, Dark Green, Pink, Yellow and Purple) of 10 g each and 2 DFX brushes (#3 Round Brush & #2 Flat Brush).
High quality, the Diamond FX body paint is water-based.
Highly pigmented, DFX makeup is renowned for its bright colours.
Hypoallergenic | Fragrance-free
Easy to use with a slightly wet brush or sponge.
DFX paint provides maximum coverage and can be applied to all skin tones while maintaining its shine and density.
This DFX palette with 12 essential colours will last from 1200 to 2000 professional makeups.
Each colour comes in an individual container (10 g) removable from the palette and replaceable when necessary.
Diamond FX body paint is manufactured according to EEC and FDA standards.
Tips for use
–          Removes easily with soap and water.
–          Use a small amount of water on your brush or sponge. Do not put water directly on the paint.
–          Apply the colours evenly to obtain a smoother mixture.
Please note: The label advises that the FDA restricts use of this product around the eyes or lips.
In stock
Only logged in customers who have purchased this product may leave a review.