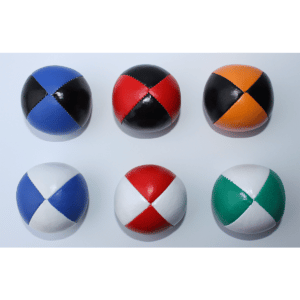 Beanbag 130gr – Goudurix
$6.00
Excellent value for money, the envelope of this 130gr juggling ball is composed of four elastane panels sewn by hand (2 black or white panels and 2 color panels of your choice). Unlike the beanbags manufactured by Mister Babache, they do not have an inner envelope.
The 130gr beanbag is filled with millet, a grain with rounded ends that is not aggressive to the juggling ball shell or to the hand.
The 130gr beanbag provides a comfortable grip and it crashes into the hand, greatly facilitating its reception.
The 130gr beanbag does not bounce when it falls to the ground, so it is perfect for training and for beginners.
The 130gr is the mot popular juggling ball format.
The 130gr beanbag is suitable for air juggling and multi-balls juggling.
The beanbag is offered in several weights (60 gr, 110 gr, 130 gr, 180 gr, 500 gr, 1000 gr) and diameters, different textures and various colors.
See How to choose the perfect ball to choose the right ball.
All our balls are sold individually.
Only logged in customers who have purchased this product may leave a review.